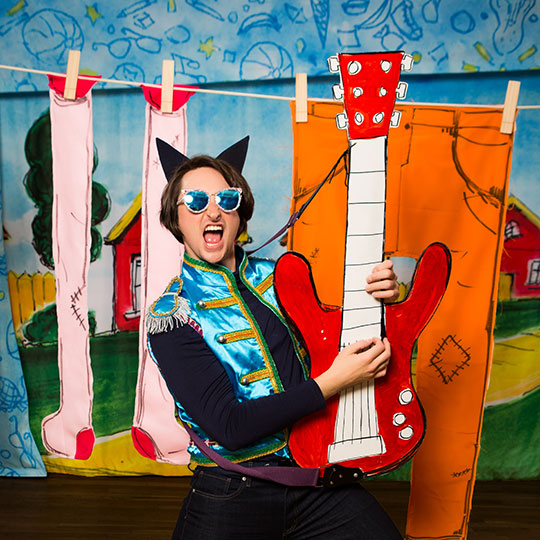 Dayton Live Presents
Discovery: Pete The Cat
Apr 18, 2024
Victoria Theatre
Description
THERE IS A WAITLIST FOR THIS SHOW. Please register below and you will be added to the waitlist.
For Pete The Cat, life is an adventure no matter where you wind up. So, the minute the groovy blue cat meets The Biddles, he gets the whole family rocking. That is, except for young Jimmy Biddle, the most organized second grader on planet Earth. But when Jimmy draws a blank in art class during the last week of school, it turns out Pete is the perfect pal to help him out. Together, they set out on a mission to help Jimmy conquer second grade art, and along the way, they both learn a little something new about inspiration. Join Jimmy and Pete on an adventure of friendship, all the way to Paris and back in a VW bus!
Book and lyrics by Sarah Hammond. Music by Will Aronson. Based on the Pete The Cat series of books by Kimberly and James Dean. Produced by TheaterWorksUSA.
Resource Guide
Resource Guide coming soon!
Academic Standards Met
English/Language Arts: RL.K.3; RL.K.9; RL.1.3; RL1.9; RL.2.1; RL.2.3; RL.2.9; RL.3; RL.3.3; RL.3.4
National Core Arts Standards: TH:Re7.1.PK; TH:Re7.1.K; TH:Re7.1.1; TH:Re7.1.2; TH:Re7.1.3; TH:Cn10.1.PK; TH:Cn10.1.K; TH:Cn10.1.1; TH:Cn10.1.2; TH:Cn10.1.3; TH:Cn11.1.PK; TH:Cn11.1.K; TH:Cn11.1.1; TH:Cn11.1.2; TH:Cn11.1.3; TH:Cn11.2.PK; TH:Cn11.2.K; TH:Cn11.2.1; TH:Cn11.2.2; TH:Cn11.2.3
Age Recommendation
Best for grades PreK-3.
Accessibility
We recognize that the heart of an arts organization will always be the people we bring together and experiences we share.
The 11:30 a.m. performance will be sign interpreted and/or audio described upon request. Please indicate your need for interpreted and/or audio description on your Discovery order form or let the ticket agent know at least two weeks before the performance. Please understand that while we will make every effort to make reasonable accommodations, certain requests may not be able to be honored.
For detailed accessibility information, including seating, audio, and sign interpretation please visit our Accessibility page.
Ticket Information
HOW TO ORDER TICKETS
THERE IS A WAITLIST FOR THIS SHOW. Please register below and you will be added to the waitlist.
Just click the "BUY TICKETS" button below to order your tickets! You'll be taken to the order form.
If you'd like to request ticket scholarship assistance, visit our Discovery Series Scholarships page.
If you are a home educator, Dayton Live is an ACE Qualified Education Service Provider!
Plus service fees. Prices subject to change.
Showtimes