Teen Ushers & Ambassadors
The Teen Usher & Ambassador program is a competitive program in its 8th season, and currently has 53 students from across the Miami Valley region. Being a Teen Usher or Ambassador (for teens ages 14-18) immerses you in the performing arts experience. Not only will you be giving back to your community through volunteering, but you will have access to top-notch performances, exclusive professional development workshops, opportunities to meet cast members throughout the season, and you will be a part of a community where all are welcome and accepted.
Teen Ushers
As a new or returning Teen Usher, you will volunteer at our Friday evening (6:15-10:45 p.m.) or Saturday matinee (12:15-4:45 p.m.) Premier Health Broadway Series performances and may have additional volunteer opportunities throughout the season. Teen Ushers work closely with our seasoned ushers to learn what is necessary to achieve outstanding customer service. You will direct guests to their seats, hand out programs, and take tickets.
Teen Ambassadors
As a Teen Ambassador, you are a vital component to the Family Series in addition to the Broadway Series described above. Because of your previous experience with Dayton Live, we will be counting on you to create a family-friendly environment for our guests through selling merchandise like Esther Price candies and glowsticks, hosting Storytime, and handing out educational materials.
How to Apply
We are no longer accepting applications for the 2019-2020 Teen Usher & Ambassador program.
2020-2021 Teen Usher & Ambassador Application Timeline:
May: Applications Open
July: Applications Close
August: Interviews conducted
September: Mandatory Training
Due to the size of the applicant pool and the limited number of slots available, it is possible that not all applicants will receive an interview. Not all interviewees will be accepted into the program.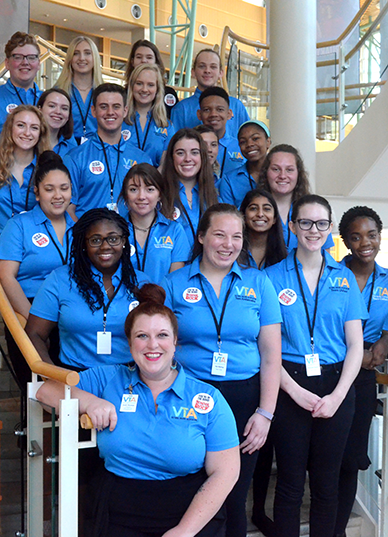 Support Performing Arts Education
Join a growing community of arts enthusiasts who support Dayton Live's incredible arts education programs. As an arts donor you will enjoy benefits like: being invited to private events, gaining exclusive 24-hour access to tickets prior to general release and having a profound impact on the future of the arts in our community!