Teen Ushers & Ambassadors
The Teen Usher & Ambassador program is a competitive program in its 9th season, and currently has 53 students from across the Miami Valley region. Being a Teen Usher or Ambassador (for teens entering 9th-12th grade) immerses you in the performing arts experience. Not only will you be giving back to your community through volunteering, but you will have access to top-notch performances, exclusive professional development workshops, opportunities to meet cast members throughout the season, and you will be a part of a community where all are welcome and accepted.
Teen Ushers
As a new or returning Teen Usher, you will volunteer at our Friday evening (6:15-10:45 p.m.) or Saturday matinee (12:15-4:45 p.m.) Premier Health Broadway in Dayton performances and may have additional volunteer opportunities throughout the season. Teen Ushers work closely with our seasoned ushers to learn what is necessary to achieve outstanding customer service. You will direct guests to their seats, hand out programs, and take tickets.
Teen Ambassadors
Teen Ambassadors are considered mentors of the Teen Usher program and will be viewed as a leader among their peers. Teen Ambassadors may have additional weeknight and weekend opportunities to be determined.
Ushering Schedule & Required Dates
For Broadway Series shows, teens can select to usher Friday evening (6:15-11 p.m.) or Saturday matinee (12:15-5 p.m.) for each show. Volunteer opportunities are available from October 2020-May 2021.
Teen Usher & Ambassador Individual Interviews: September 14-25, 2020
Teen Usher & Ambassador Orientation: Tuesday, December 1, 2020
JESUS CHRIST SUPERSTAR: Friday, January 15 & Saturday, January 16, 2021
FIDDLER ON THE ROOF: Friday, February 12 & Saturday, February 13, 2021
THE BAND'S VISIT: Friday, March 12 & Saturday, March 13, 2021
Disney's THE LION KING: Friday, May 7 & Saturday, May 8, 2021
DEAR EVAN HANSEN: Friday, June 11 & Saturday, June 12, 2021
CATS: Friday, July 9 & Saturday, July 10, 2021
ANASTASIA: Friday, July 23 & Saturday, July 24, 2021
Participation Fee
If you are accepted into the 2020-2021 Teen Usher & Ambassador program, there will be a $30 participation fee that applies to the required uniform. No fee will be required if you or your student is not accepted into the program.
How to Apply
Applications are now closed. All applications will be reviewed by a member of our Education & Engagement Department and after a review of applications, an invitation to attend an interview via phone or in-person may be extended.
2020-2021 Teen Usher & Ambassador Application Timeline:
May 7, 2020: Applications Open
July 31, 2020: Applications Close
September 14-25, 2020: Individual Interviews
December 1, 2020: Orientation
Due to the size of the applicant pool and the limited number of slots available, it is possible that not all applicants will receive an interview. Not all interviewees will be accepted into the program.
Please note, we are monitoring the timelines of all programming through the lens of Ohio's health and safety guidelines issued by Governor DeWine. We commit to putting your safety first, and we will adjust interview times, start dates, and training for programming as needed.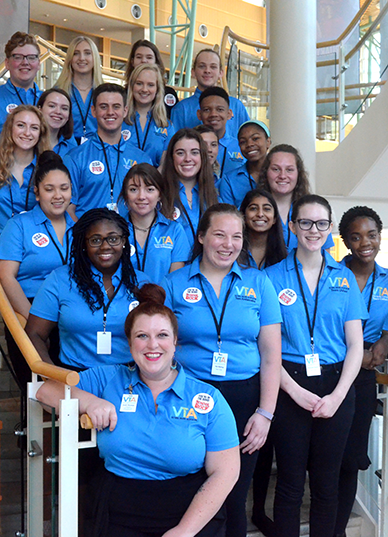 Support Performing Arts Education
Join a growing community of arts enthusiasts who support Dayton Live's incredible arts education programs. As an arts donor you will enjoy benefits like: being invited to private events, gaining exclusive 24-hour access to tickets prior to general release and having a profound impact on the future of the arts in our community!