Dayton Live Presents
Disney's The Lion King
May 1 - May 12, 2024
Schuster Center
$0 - $120
Description
Giraffes strut. Birds swoop. Gazelles leap. The entire Serengeti comes to life as never before. And as the music soars, Pride Rock slowly emerges from the mist. This is Disney's THE LION KING, making its triumphant return to the Dayton!
More than 100 million people around the world have experienced the awe-inspiring visual artistry, the unforgettable music, and the uniquely theatrical storytelling of this Broadway spectacular – one of the most breathtaking and beloved productions ever to grace the stage.
Winner of six Tony Awards®, including Best Musical, THE LION KING brings together one of the most imaginative creative teams on Broadway. Tony Award®-winning director Julie Taymor brings to life a story filled with hope and adventure set against an amazing backdrop of stunning visuals. THE LION KING also features the extraordinary work of Tony Award®-winning choreographer Garth Fagan and some of Broadway's most recognizable music, crafted by Tony Award®-winning artists Elton John and Tim Rice.
There is simply nothing else like THE LION KING.
Age Recommendation
Disney on Broadway performances are recommended for a general audience. As an advisory to adults who might bring young people, Disney recommends its productions for ages 6 and up. All guests entering the theatre, regardless of age, must have a ticket.
Accessibility
The first Saturday matinee performance will be sign interpreted and/or audio described upon request. Please let the ticket agent know at least two weeks before the performance if you would like either of these services when you order your tickets from Dayton Live. Please understand that while we will make every effort to make reasonable accommodations, certain requests may not be able to be honored.
For detailed accessibility information, including seating, audio, and sign interpretation please visit our Accessibility page.
Parking
The Arts Garage, on the northwest corner of Second and Ludlow Streets, open for all performances at the Schuster Center, Victoria Theatre, and PNC Arts Annex. The Arts Garage is owned and operated by Dayton Live, so parking there actually helps support the arts venues used by all our great arts organizations. For more parking information, visit our Directions & Parking page.
Ticket Information
Dayton Live is the only outlet authorized to sell tickets to events at the Schuster Center, Victoria Theatre, PNC Arts Annex, and The Loft Theatre. To learn more about Season Tickets, gift certificates, and Ticket Office hours, call 937-228-3630 or visit DaytonLive.org.
Season Tickets
Click here for details about becoming a 2023-2024 Premier Health Broadway in Dayton Season Ticket Holder!
Health & Safety
Click here to learn about our most recent health and safety policies.
Group Tickets
Want to bring a group? Visit our group information page or call 937-228-7591, ext. 3074.
Dayton Live Ticket Office
Photos:
Darian Sanders as Simba in THE LION KING North American Tour. Photo by Deen van Meer. ©Disney
Company of THE LION KING on Broadway: Circle Of Life. Photo by Matthew Murphy. ©Disney
Lionesses dance THE LION KING North American Tour. Photo by Deen van Meer. ©Disney
Gugwana Dlamini as Rafiki THE LION KING North American Tour. Photo by Joan Marcus. ©Disney
Plus service fees. Prices subject to change.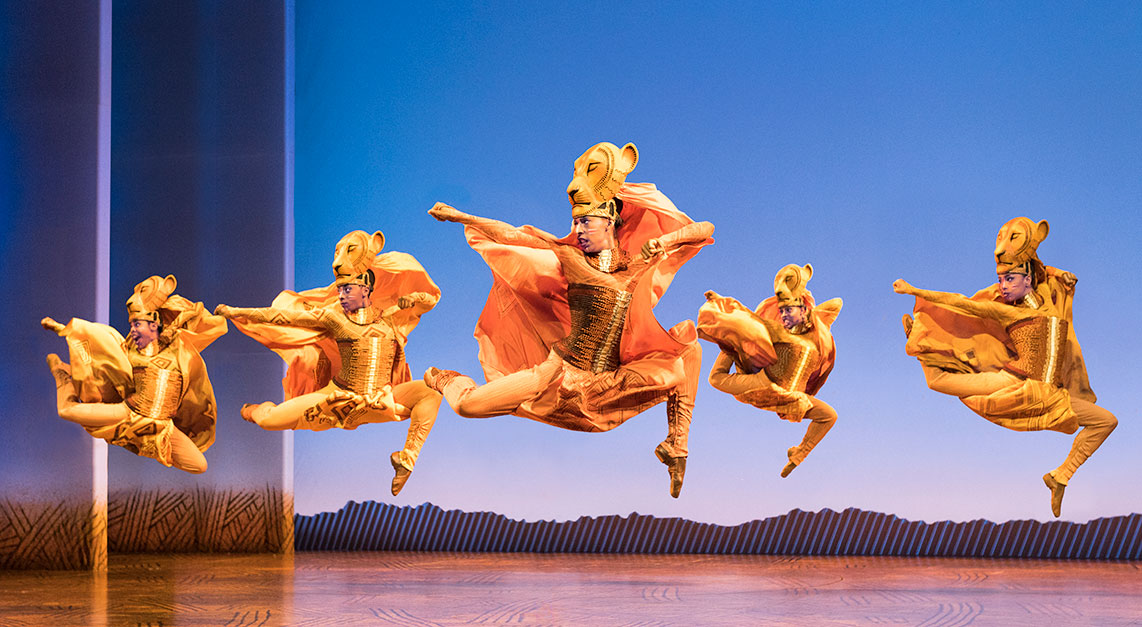 Showtimes