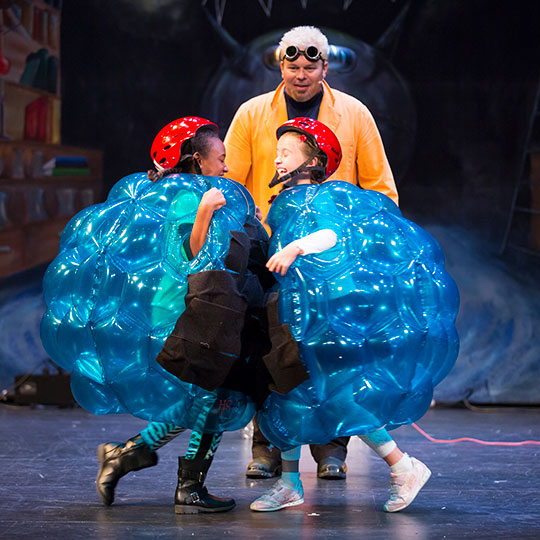 Dayton Live Presents
Discovery: Doktor Kaboom And The Wheel Of Science!
Oct 27, 2023
Schuster Center
Description
So much science, so little time… Doktor Kaboom is having trouble picking his favorite science demonstrations, so he's bringing them all! Unfortunately, there are way too many to do them all in one show. The solution: The Wheel of Science! Doktor Kaboom has built a great big spinning wheel and labeled it with everything from optical illusions to chemical reactions to a homemade hovercraft, and more! At least a dozen fantastic demonstrations ready to go. Wherever the wheel stops, that's what's next! Will we turn a water bottle into a rocket or catapult bananas across the stage? Electrocute a pickle or create artificial gravity? Who knows? No two shows will be the same. So, step right up, and let's spin that wheel!
Created by David Epley.
Resource Guide coming soon!
Academic Standards Met:
Science: PS.FM.1; PS.FM.2; PS.FM.3; PS.FM.3; PS.EW.1; PS.EW.2; PS.EW.3; PS.EW.5; PS.M.1; PS.M.5
National Core Arts Standards: TH:Re7.1.3; TH:Re7.1.4; TH:Re7.1.5; TH:Re7.1.6; TH:Re7.1.7; TH:Re7.1.8; TH:Cn10.1.3; TH:Cn10.1.4; TH:Cn10.1.5; TH:Cn10.1.6; TH.Cn10.1.7; TH:Cn10.1.8; TH:Cn11.1.3; TH:Cn11.1.4; TH:Cn11.1.5; TH.Cn11.1.6; TH:Cn11.1.7; TH:Cn11.1.8; TH:Cn11.2.3; TH:Cn11.2.4; TH:Cn11.2.5; TH.Cn11.2.6; TH:Cn11.2.7; TH:Cn11.2.8
Age Recommendation
Best for grades 3-8.
Accessibility
The 11:30 a.m. performance will be sign interpreted and/or audio described upon request. Please indicate your need for interpreted and/or audio description on your Discovery order form or let the ticket agent know at least two weeks before the performance. Please understand that while we will make every effort to make reasonable accommodations, certain requests may not be able to be honored.
For detailed accessibility information, including seating, audio, and sign interpretation please visit our Accessibility page.
Ticket Information
HOW TO ORDER TICKETS
Just click the "BUY TICKETS" button below to order your tickets! You'll be taken to the order form.
If you'd like to request ticket scholarship assistance, visit our Discovery Series Scholarships page.
If you are a home educator, Dayton Live is an ACE Qualified Education Service Provider!
Plus service fees. Prices subject to change.
Showtimes